Dolphin Browser Mini
2.3
The Paradigm Shift
Have you ever had that experience when your phone's behavior changes so dramatically that it feels like a totally different person device? If you did and liked it then Dolphin Browser Mini is just the right fix for you. Your device will experience a shift in consciousness, space and time will behave differently… and feel puffy all of the sudden.
If you haven't experienced it yet then wouldn't you be interested in trying it? C'mon, it's free…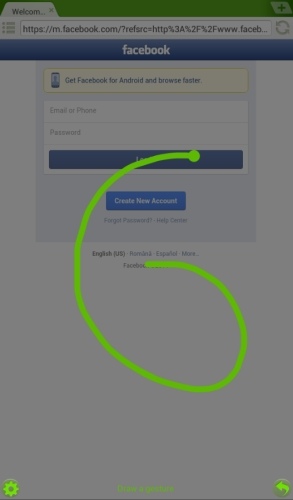 Finger Gym
Dolphin Mini has the ambition of changing the way you interact with your phone while browsing the net. Kind of like a rebellious teenage girl that dyes her hair green and shouts that from now on she'll do things her way. This is blatantly obvious right from the start. When you first launch it you'll be asked for the position of the gesture button; ooh that sounds interesting. Then you'll be asked if you want the volume buttons to do the same boring thing or instead be used for scrolling or switching tabs; neat. Finally it will ask about some other things including your e-mail address to keep you hooked on it; using Dolphin Mini that is.
Let's see, the main window looks okay, the tabs are reminiscent of Chrome's, the speed dial can handle quite a few links and is as good as the one in Opera Mini, yes…Oh wait! Where's the back button?!
It might not go this way but sooner or later you'll definitely want to go back and there's no button for that! It is because quite a lot of functions are handled by gesture commands! That actually means Dolphin Mini has in a sense more buttons than any other browser in existence! You have gestures for Go to top of page, Go to bottom of page, New tab, Refresh, Go to Facebook, Go to Google, Go forward and obviously, Go back. Additionally you can map custom gestures for almost any browser command you can think of. But it remains to be seen whether this will transform you into a prolific finger gesturing wizard or just vex you. Actually there are button versions for Back and Forward but they only pop up when you swipe the screen. Yeah, I know; I lied but it was only to make a valid point.
Pressing the Menu button will bring up a military jet cockpit panel from where you can, among other things, expand the browser window for a better view, cycle through tabs, access the various settings and view or add bookmarks. It also finds room for an Exit button which opens a cool dialog asking if you want to clear the cache and/or history before doing something else with your life.
Still, as sleek and elegant as Dolphin Mini might be, it's not entirely problem free. In its ambition to take over the general functions it manages to screw up two important elements: the Android keyboard and the text selection tool. The keyboard fails to appear sometimes; also trying to select text is useless and might also result in a freeze, a crash or both.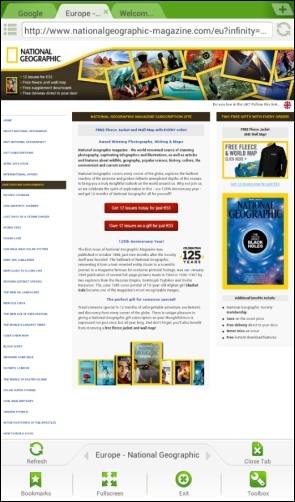 Features
Speed Dial – On par with Opera Mini, you can add links manually or directly from the history.
High number of tabs – You can open as many as you want (don't expect it to work as smooth though after you open the hundredth one).
Multi-touch pinch zoom – Not that other mobile browsers don't have it, but it's worth mentioning it.
Gesture commands – You can personalize custom commands for accessing specific links such as your mail box or frequently visited sites.
Tool Box – The Tool Box contains miscellaneous options such as Private Browsing, Data Backup and Data Cleaner. It also gives access to the Settings screen.
Dolphin Browser Mini would have won me over if it wasn't for the text selection issues. I often lookup phrases or keep text lines for reference so this is a big turn off. What I enjoyed though was the fact that you can safely switch tabs without closing them by mistake. Lastly, the gesture solution can be very useful for small screens if you can get accustomed to it.
Pros
Switching tabs is easy and fool proof.
Scrolling a page is a breeze if you map the volume buttons to do it.
It has most of the functions you would expect from a regular PC browser.
You can map links and commands to simple gestures.
Cons
It needs some work on the text selection issue.
If the Android keyboard decides not to appear, then it won't for the rest of the session.
Conclusion
Dolphin Browser Mini is an amazing app which, in case it receives updates concerning the text issues I would gladly adopt it. Because dolphins are very intelligent and Dolphin Browser Mini has great features.
---
Add a review
Tell us your experience with
Dolphin Browser Mini
2.3
RELATED PROGRAMS
Our Recommendations
---
---
---
---